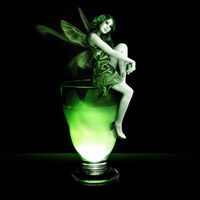 Absinthe (pronounced /ˈæbsɪnθ/ AB-sinth) is historically described as a distilled, highly alcoholic (45–74% ABV) beverage. It is an anise-flavored spirit derived from herbs, including the flowers and leaves of the herb Artemisia absinthium, commonly referred to as "grande wormwood". Absinthe traditionally has a natural green color but can also be colorless. It is commonly referred to in historical literature as "la fée verte" (the Green Fairy).
Although it is sometimes mistakenly called a liqueur, absinthe is not bottled with added sugar and is therefore classified as a spirit. Absinthe is unusual among spirits in that it is bottled at a very high proof but is normally diluted with water when consumed.
For many years, Absinthe was illegal in the US. In recent years the laws have relaxed and it is legal for consumption in most US jurisdictions.