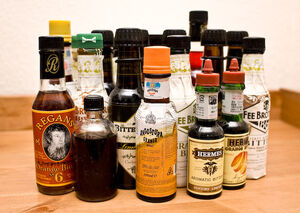 Bitters, or bitter liqueurs, are alcoholic beverages prepared with herbs and citrus dissolved in alcohol or glycerine and having a bitter or bittersweet flavor.
Bitters are commonly used in cocktails as flavoring.
Common ingredients in bitters include: angostura bark, cascarilla, cassia, gentian, orange peel, and quinine. The flavor of both Angostura bitters and Peychaud's Bitters derives primarily from gentian, a bitter herb.
Types of bitters
[
]
Angostura bitters
Boker's bitters
Orange bitters
Peach bitters
Peychaud's bitters
Recipes
[
]