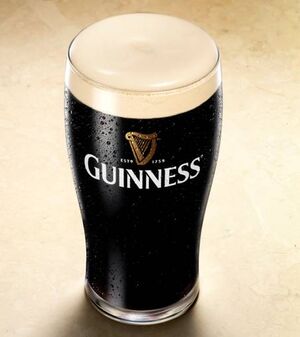 Guinness is an Irish stout beer with thick creamy head.
Guinness (/ˈɡɪnɨs/ GIN-is) is a popular Irish dry stout that originated in the brewery of Arthur Guinness (1725–1803) at St. James's Gate, Dublin. Guinness is one of the most successful beer brands worldwide. It is brewed in almost 60 countries and is available in over 100.
Guinness Varieties
Edit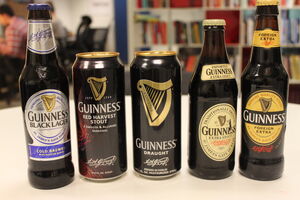 Guinness Draught - Guinness Draught is sold in kegs, bottles, and widget cans (with a special nitrogen "widget" for an extra creamy head) and contains an alcoholic content between 4.1 and 4.3 percent alcohol by volume (ABV).
Guinness Foreign Extra Stout - This variety has a higher alcohol percent by volume than most other varieties of Guinness, reaching up to 7.5% ABV in Europe and the United States and up to 8% ABV in Singapore. To make this variety of Guinness, an unfermented hop mixture is shipped from Dublin to foreign countries where it is then fermented locally. The variance in fermentation processes and techniques account for the varying alcohol levels.
In addition to these three main varieties, Guinness has created a large array of other brews throughout its history, including a number of limited-edition stouts.
Community content is available under
CC-BY-SA
unless otherwise noted.