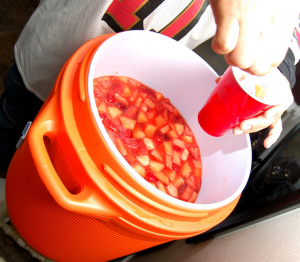 Ingredients
[
]
Directions
[
]
Use a large container (ie. ice chest or similar, minimum of 40L/10 gal capacity, with a securely-fitting lid).
Place fruit in container.
Add Everclear, vodka, 151, schnapps, triple sec and gin to container.
Allow the fruit to soak in all the alcohol for about 4 - 12 hours.
Add Sunny D, fruit punch/lemonade, and juice concentrate. Let sit overnight in cool/cold place.
Add chilled wine and stir.
Prior to serving, add chilled lemon-lime soda and gently stir to combine.
Serving
[
]
Use a long-handled ladle to pour into cups with at least some fruit
Alternately, instead of adding soda directly to the container, fill serving cup half-full with Jungle Juice and fruit, topping off with chilled soda just prior to serving in order to prevent flat soda as the day progresses.
Storing
[
]
Unused portions (if any!) may be poured out into individual bottles and refrigerated. If soda was added to the overall mix, the remnants will go flat and be rendered somewhat unpalatable. If soda was added on a per-cup basis, punch will last longer.
Fruit should be separated from the liquid prior to storage. Fruit is excellent in baking applications and is an amazing surprise when added to jell-o molds.
Notes
[
]