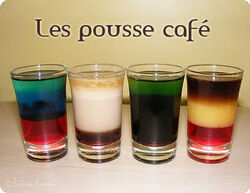 Reputedly invented by the legendary New Orleans Madame Santina, this is a fiery drink said to inflame passion in young lovers and in the young-at-heart.
Description
Edit
The term Pousse Café means "a layered drink" and has nothing to do with coffee.
Santina's Pousse Cafe, from Jerry Thomas' Bartending Guide or How to Mix Drinks—original source of recipe, out of copyright
Ingredients
Edit
Directions
Edit
In making a Pousse of any kind the greatest care should be observed to keep all the ingredients composing it separate. This may best be accomplished, by pouring the different materials from a sherry wine glass. The accompanying illustration will give a tolerable idea of how this delicious French drink should be prepared. It requires a steady hand and careful manipulation to succeed in making a perfect Pousse.
Community content is available under
CC-BY-SA
unless otherwise noted.